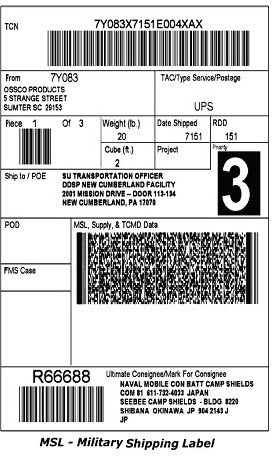 We have awesome label and packaging specialists waiting to help you in this area. We can provide a full spectrum of 129 Compliant Labels and assistance with all of your DOD mandated marking. Our packaging specialists can assist in understanding the maze of US Government DoD packaging requirements insuring a smooth shipment. Get the quote right. Make sure you plan on all costs before you commit to providing expensive services that you had not planned on. Our specialists have 30 years of experience in Labeling and Packaging for DOD and GSA agencies. We can share our experience in shipping to components of all military service branches with you as well as prepare all necessary labels needed to properly mark all shipments.
Let us help See sample labels here
Send us an e-mail to labels@osscoproducts.com and one of our specialists will contact you shortly. Please provide as much information as possible. We need your company information including your CAGE code (if known), contact information (including telephone) and information on your contract (contract type and number).
Label pricing is quantity based and will be provided when we contact you. Our pricing is very competitive and when bundled with the expert hand holding we provide, they are a real bargain.
Call Us: (803) 775-7323
Fax Us: (803) 775-2441